Hannahs club nights, Devon
In the next of our series on club-nights for people with learning disabilities we've been speaking with Hannahs in Devon.
They run 'The Friday Night Out' and here's a bit more about their nights from Dean Mottershead.
How did Friday Night Out Start?
Friday night out started four years ago when I first started working at Hannahs I met with then CEO of the Dame Hannah Rogers Trust and expressed that I wanted to start a social club on site and a few weeks later we began with the Friday night disco and its little sister the Friday night socials!
Have they changed much since you started?
Every 3rd Friday of the month we have an affordable, accessible disco and the Friday night out disco has not really changed since then! Other than our wonderful and eccentric themed evenings such as super hero night and the fashion show night we held for Access All Aerials a radio station held within the same building as the Friday night out which helps young disabled adults access radio and other socialisation if they want to!
Do you have problems with people leaving early?
Not really. Seale hayne has on site camping and a range of accommodation available if people want to attend and the Friday night out has gone on till midnight and even 3AM one remarkable evening!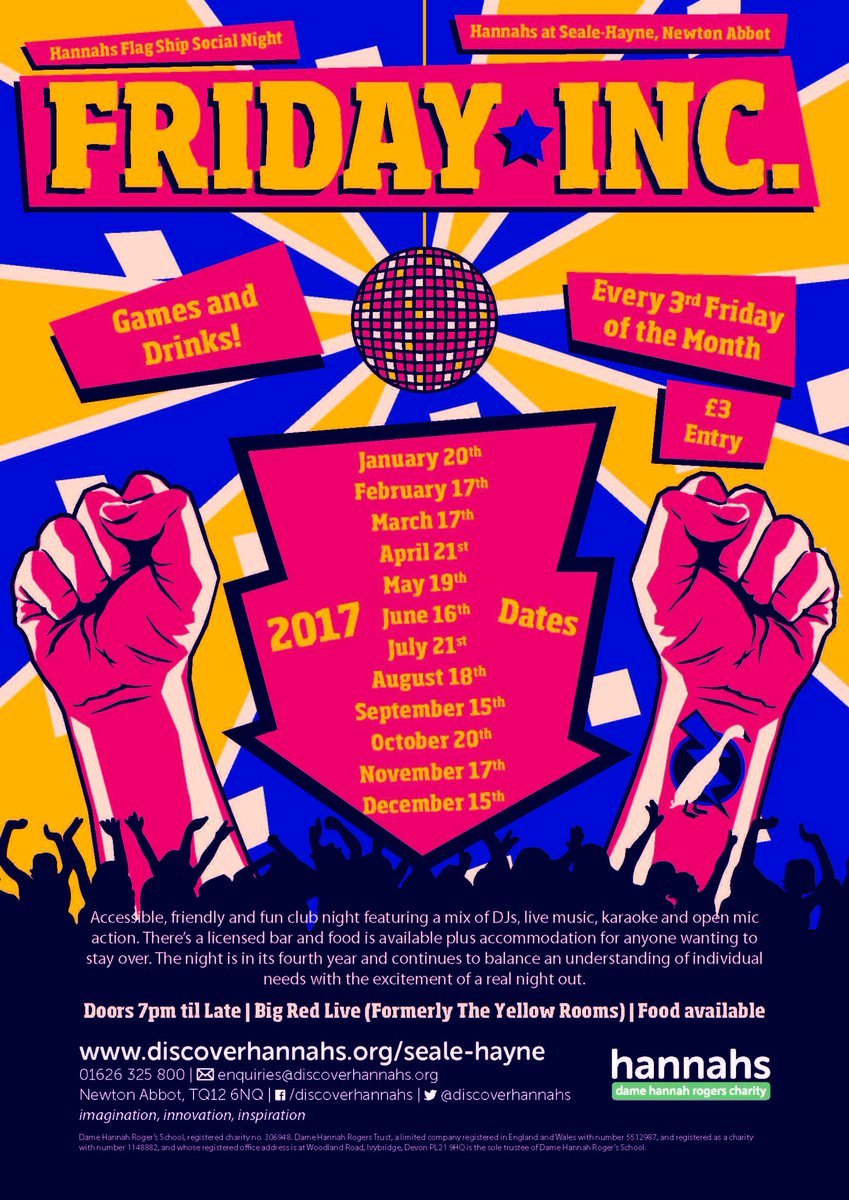 What are your tips for a great club night?
My Tips for a good night would be to work with other people or even the guests that attend to help make great evenings and sometimes it is not because you have some amazing in depth plan but have been willing to go with the plan and let the magic happen!
DO YOU WANT TO TELL US ABOUT YOUR CLUB NIGHTS?
Do you run an inclusive club night for people with learning disabilities? We'd love to hear from you and here are some questions we've written to help you write a short article. And do drop us a line if you need some help at info@stayuplate.org
OUR TIPS ON RUNNING A CLUB NIGHT
If you're thinking of setting up your own night please also see our article on top tips for running your own night.
TELL US ABOUT YOUR NIGHTS
And don't forget to tell us about your nights so we can share the love on our events listings.
[ngg_images source="galleries" container_ids="4″ display_type="photocrati-nextgen_basic_thumbnails" override_thumbnail_settings="0″ thumbnail_width="240″ thumbnail_height="160″ thumbnail_crop="1″ images_per_page="20″ number_of_columns="2″ ajax_pagination="0″ show_all_in_lightbox="0″ use_imagebrowser_effect="0″ show_slideshow_link="1″ slideshow_link_text="[Show slideshow]" order_by="sortorder" order_direction="ASC" returns="included" maximum_entity_count="500″]