'Like a storm at a festival' – our review of 2021 (and how we kept on dancing)
Our look back at 2021
It was like a storm at a festival but we kept the party going!
Focussing on our purpose
Last year we were reflecting on how Covid was like that time that someone turned the switch from 'suck' to 'blow' on the poo machine in the dance tent at Glastonbury.
In stead of sucking up the flood of rain water poo was instead spread everywhere and closed the tent down.
Did that stop those ravers from having a great festival? Well I imagine it took the shine off for an hour or two but then they'd have gone and found something else to do. And that's exactly what we did and through that it enabled us to really reflect on our true purpose as a charity; not going out to gigs, or even staying up late, BUT about creating connections, supporting friendships and supporting people with learning disabilities to lead the lives they choose.
Thank you to the staff team
A massive thank you needs to be said to our wonderful staff team who have just been immense at adapting to new challenges and through everything giving the people we work with great support and enabling them to make the best of any opportunities that arose.
Online activities
We scaled back our online activities but looked at what had worked too, and what we'd like to keep. One thing was the development of our Ambassadors Network and Gig Buddies network (more on those later) but also the coffee mornings. The idea behind this was really simple, a hour with no agenda, just time to catch-up and chat.
These were really popular and we've now worked with Camerados to run weekly 'Public Living Rooms' from our new office location in Hove.
These are open to the general public and an opportunity for anyone to come and meet other people, and they're going really well.
Community Engagement Project
We've had the wonderful opportunity to work with Jenny Moore, a Community Engagement practitioner from Brighton and Hove to develop certain aspects. Jenny has focussed on increasing the diversity of the people we work with and this has led to us being involved in the 'Identity' project.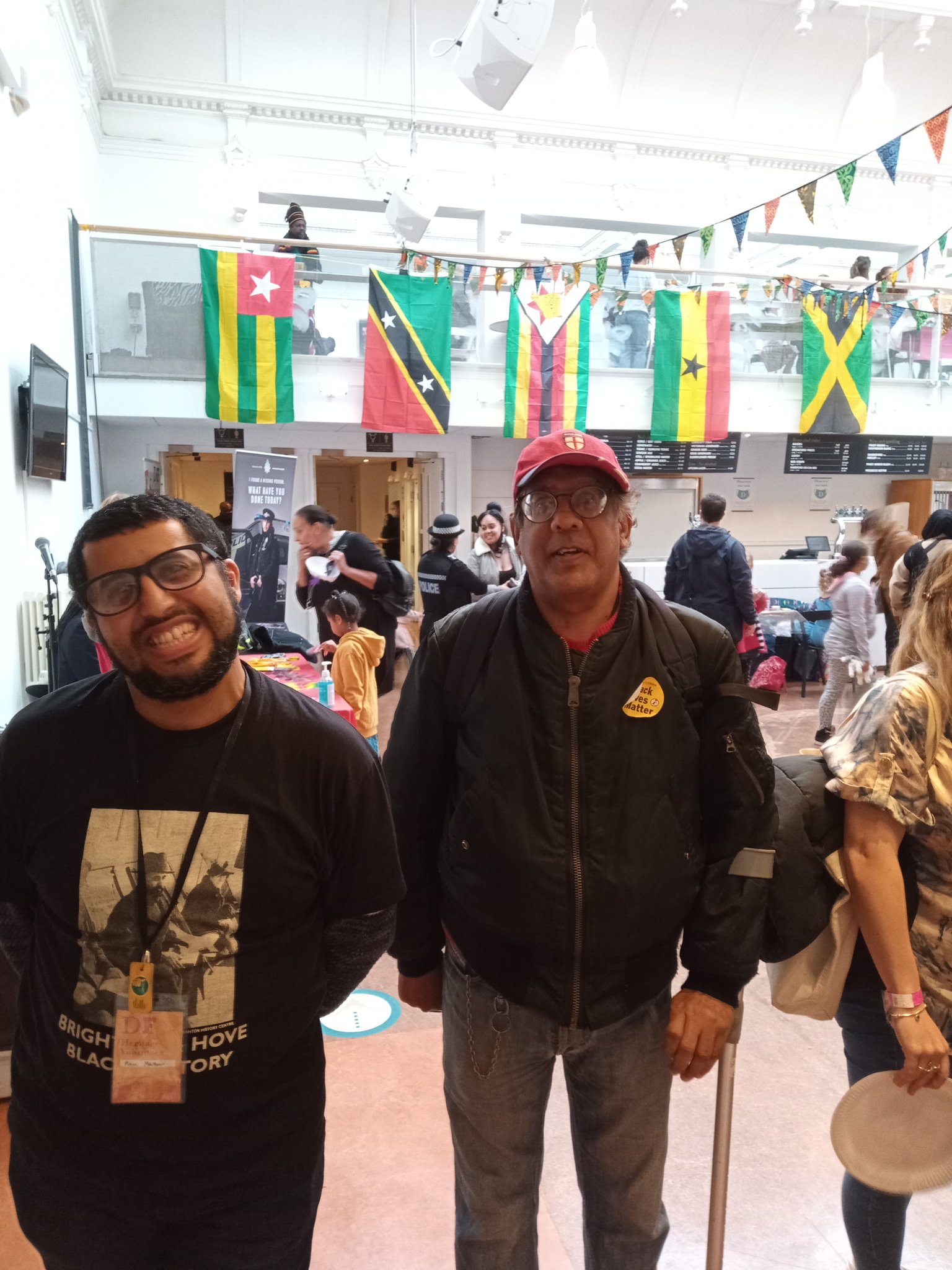 Jenny has also helped us to streamline our application processes which has seen a big increase in the number of volunteer applications we've received, and we've also had great feedback on how quick we are to follow up on any applications.
Jenny has also been instrumental in getting our Public Living Room off the ground and this is run by volunteers with learning disabilities.
Campaign Ambassadors
The network of self-advocate campaigners continues to grow with them meeting up every month on Zoom. Sadly we decided to pull the plug on the scheduled day long workshop in Birmingham as we felt that travel would put too many people at risk but instead they held an event online and Daniel even got the conference vibe going in his flat by creating a great big conference buffet for him and Darren.
They've also been busy in writing to every local authority in the country to call for a pledge to what we call 'No Bedtimes Commissioning' and the response has been fantastic.
You can read more about this here
The Gig Buddies Network
Another bonus of getting used to a life of Zoom meetings has been meeting much more regularly with all our partners running Gig Buddies projects in other places. It's been a great space to talk about issues, share ideas and connect as a community. We've talked about everything from safeguarding to socks.
We've also welcomed new projects opening up in North Yorkshire, Bristol, Belfast and Central Coast, Australia.
The Bristol launch was something just a little spectacular as Dev (from band IDLES) organised a live streamed gig and raffle with The Exchange in Bristol. Raffle prizes came from people like Radiohead and Florence and The Machine with eager superfans sitting through the whole livestream to see if they'd won that rare acetate, or signed LP.
They also got comedians Stewart Lee and Shaun Locke involved. It was just an incredible day raising lots of funds for Gig Buddies Wales and Bristol and a lot of awareness for our work.
"Culture makes a massive difference to peoples' lives and after a period where people have been starved of stimulus the idea of a charity that helps people who otherwise might find it difficult to get out and see stuff seems really important." Stewart Lee
We continue to get enquiries from all over the place and hoping to announce some new places where Gig Buddies will be happening next year.
Gig Buddies Sussex
The Gig Buddies project continues to develop and there's great demand from people with learning disabilities looking for a buddy, and as we said above, we've been successful in attracting a lot more volunteers.
Now that we're back seeing people we've been running socials in a variety of places and we've loved hearing the stories about people getting back out to their first 'gigs' again.
We also broke through that magic 100 barrier and now have 105 pairs of matched buddies.
Sports Buddies
We were really excited to announce the launch of Sports Buddies, with thanks to funding from Active Sussex. It seems more important than ever for us all to get back in the habit of getting active and being confident about being in public spaces again. Sports Buddies does this in the 'Gig Buddies style' of matching people around a shared interest. So they're getting active and making new friends at the same time.
With both Gig Buddies and Sports Buddies being back out in the community we're focussing on developing our advisory groups so they're meeting in more places, more often, too so that we can ensure we're involving people with learning disabilities in decisions about the way we work across the projects and the charity.
The Quality Team
The work of the Quality Team has taken a bit of a pause, we tried organising visits only to have them cancelled at short notice due to Covid outbreaks but we will be re-launching the work of the team in the new year and hopefully getting back to business as usual before too long.
Jamie
Jamie Craig ('Thunderking')
Goodbye to friends
We were saddened to say goodbye to our friends Jamie and Chris. Jamie was an original member of the Storm and Thunder Team (one of our advisory groups) and we suspect his love of everything to do with the weather may have influenced the naming of the team! Jamie was also a great DJ and friend of the charity.
Chris was also someone who was around from the very early days of the charity and was always involved in various things, Storm and Thunder Team meetings, volunteering in the office, helping out at events and even walking all night across the downs dressed as a Minion for our sponsored walk. He was also a great musician and is sorely missed.
Branding refresh
What with our 10 year anniversary coming up we thought it would be a good time to refresh our 'look' as a charity and also try and do something about something that does confuse a lot of people. They think that Stay Up Late and Gig Buddies are two different organisations.
I always try and explain how it works in sci-fi terms: Stay Up Late is the mothership (the charity) and Gig Buddies is a space podule (a project underneath the charity) along with our other projects.
I'm not sure that helps so we decided to make our logos look much more related. We started off by also thinking how we could make us look a little less grungy and appeal to more people. In the end we channeled the spirit of Poly Styrene and made it even more punk and we love it.
Office Move
We loved our old office but it was tucked away and hard to find. With so much disconnection caused by lockdown we wanted to find a way to create more connection once lockdown had ended and one way to do this was to move office. Thanks to Hove Methodist Church they loved our vision of working with Nam Yang Martial Arts, Food and Friendship and Brighton Table Tennis Club to create a community hub.
Quickly it's become a joyful place to work where there's lots of connections being made each of our activities and we're also a lot easier for people to find!
Team away day reflections
In May we had a great team away day and as we weren't allowed to meet in doors we sat on the seafront and used beach huts as our whiteboard.
It was lovely to connect and see each other again and the team were all asked to produce a poster which summed up the past year for them.
The key themes that emerged were:
It was a A 'Festival of Fun' or 'Festival of Connection'
Incredible team work
Friendship
We tried to not leave anyone behind
We kept it fun
We kept it real
We ended up achieving a huge amount together
And of course we all 'Kept It Punk'
I'm coming out
I think a common emotion for many of us has been getting back in to going to gigs and events and getting used to being part of communal activities again. We're finding this is harder for some of the people we work with too because lockdown has changed their habits (I know my habits changed a lot in lockdown too) and also because their carers are understandably cautious about them getting back out there.
So our focus for the coming months is very much going to be on supporting people to develop their confidence and get back out there in safe ways.
10th birthday party
It felt like a huge occasion to have our 10th birthday party, not because it was 10 years of Stay Up Late but because it was the first time many of us had seen each other for so long and it was just lovely to have a dance and a chat.
We're aiming to hold another 10th birthday party in the Spring too.
10 years of Stay Up Late
So as we celebrate 10 years of being a charity we're planning to look back at some of the things we've achieved and some of the stories about how we came about and we'd love our community to be part of this and will be asking for your memories too and also tell us about what we've helped to change.
We'd also love your ideas on how we can best celebrate too, let us know if you have any crazy ideas.
Thank you to everyone who's been part of our work over the past year, it's been another incredible year, it's not been without its challenges but together we've stuck to our mission and we're looking forward to more connection and making more things happen.
Paul Richards, Director